How To Find Us
Please click image to enlarge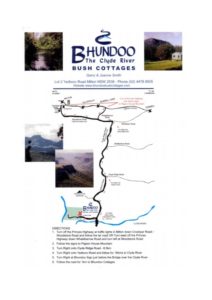 National Park safety Tips
It's great to explore and experience NSW national parks. Naturally, we encourage you to see and do as much as possible. We also want you and your companions to stay safe. Remember that parks are natural environments and can be unpredictable. You should plan your journey for all weather conditions.
General tips
You're welcome to contact individual park offices for information on park safety. Generally, a bit of planning and foresight makes all the difference. Check out these general safety tips.
Park closures
There will be times when, in the interests of visitor safety and environmental sustainability, national parks and reserves will need to be closed or have access restricted. Read more about park closures.
Fire safety
It's essential that if you're planning backcountry hiking, camping or 4WD touring in a national park that you check with the local NPWS office first to get the latest fire safety information.
No smoking in parks
NSW national parks are now no smoking areas. Cigarette butts put lives and property at risk, ruining beaches, spoiling the beauty of our parks, and endangering wildlife. Read more about no smoking in national parks.
Bushwalking
If you're keen to head out on a longer walk or a backpack camp, always be prepared. Find out more about Personal Locator Beacons, and the Think Before You Trek initiative, and learn how to stay safe when bushwalking.
Water activities
Our national parks offer loads of opportunities for fun by the water. We want you to enjoy your day out safely and help your family and friends to stay safe. Read more about water safety.
Adventure sports
Caves, canyons and cliff faces are spectacular places to visit, and adventure sports like climbing, caving, canyoning and abseiling offer a thrilling opportunity to explore these unique environments. Before you head out, be aware of the risks and learn how to stay safe during adventure sports.
Camping
Whether you're pitching a tent by the coast, up on the mountains, or in our great outback, there are many things to consider when camping in NSW national parks. Read more about staying safe when camping.
Cycling
Over the warmer months, hundreds of cyclists head to our national parks – including some of the more remote ones – for fun and adventure. If you're planning a biking adventure, learn how to stay safe when cycling.
 As part of your Bhundoo Bush Cottages getting there strategy , please refer to the Budawang National Park, Long Gully driving alerts 
Like To Know More?