There is abundant scientific data that provides powerful evidence of the importance of nature for our health. It is an established fact, that time spent in the Great Outdoors reduces the stress hormone cortisol and increases our sense of well being.
Before urban amenities and entertainment devices came into being, soaking up the sun, enjoying the showers of rain, taking a walk outside in fresh air was entertainment for the soul. It was therapeutic for both mind and body.
Unfortunately, The modern 'great outdoors', are confined to malls, shopping complexes etc. While shopping and watching movies may distract some people from trivial let downs, the relief it provides is momentary and superficial. In fact, most modern devices have, time and again, been linked to diseases like cancer at the very worst and sleep disturbances, anxiety or depression at the very least.
Excessive urbanisation has distanced us from nature and is a serious threat to our health. It's no wonder that people nowadays are so stressed out, depressed and in constant 'need' of something they can't quite put a finger on.
Add to this the adulterated food we put into ourselves and what we get is a breeding ground for disease and misery.
So what's the alternative? The only alternative, is to go back to our roots in nature. Children must be encouraged early on, to spend time outdoors, instead of being handed gaming consoles and mobile phones.
Not only will such an engagement with nature be healing and good for our well being, it will also ensure that our future generations are guided gently back to the right path. Let us take the future in our hands by choosing the right path, right now.
And one of the finest places to start that process is the  Bhundoo Bush Cottages,  a picturesque 140 acres property nestled in the Clyde Valley between Pigeon House Mountain and The Castle on the Upper Clyde River at Yadboro. There is over 1km of river frontage and spectular views of the Castle and Byangee Walls.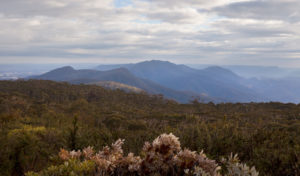 Surrounded by Budawang wilderness area in the Budawang National Park. An area known for its bush walking trails and bass fishing, along with canoeing and swimming. The wilderness surrounding Bhundoo is ideal for nature loving and birdwatching activities, photography and painting. Or just relax and enjoy the peace and tranquility. There are two self contained cottages each accommodating up to 8 people with magnificent mountain views of the Budawang Ranges. welcomed.
Bhundoo is Aboriginal for the Clyde River, which is 110 kms in length with an intensive catchment area. From the headlands near Sassafras the river drops steeply from sedgeland meadows to boulder stewn rapids in the spectacular Clyde Gorge. Bhundoo is the first private property being 25kms from the head of the river at Yadboro Flat where the river is typified by long deep pools.
Whether it's getting away from it all to relax and unwind or something a little more adventurous, Bhundoo Bush Cottages is the place for you.